Tibetan-English Dictionary App
Tibetan-English Dictionary App
A Tibetan<->English dictionary application that contains various dictionaries and that can be used either online or as Android app.
Installation:
Online Version (can also be used with Desktops/Laptops/iPhone/iPad/Android and can be used without any installation)
Go to: dictionary.christian-steinert.de
App for Android
(can be used without internet connection):

 
Contained Dictionaries
This dictionary app contains several Tibetan-English, Tibetan-Tibetan, and Tibetan-Sanskrit dictionaries:
Glossary from the 84000 translation project (www.84000.co)
Dr. Alexander Berzin's English-Tibetan-Sanskrit Glossary.
Richard Barron's glossary. © Copyright 2002 by Turquoise Dragon Media Services.
Thomas Doctor's Tibetan-English terms
Tibetan and English terms from: "Buddhist Terms – Multilingual Version", Edited by Peter Gäng and Sylvia Wetzel, Buddhist Academy Berlin Brandenburg (June 2004)
"Verbinator" Tibetan Verb Dictionary (Verbinator 2000). Taken from: Hill, Nathan (2010) "A Lexicon of Tibetan Verb Stems as Reported by the Grammatical Tradition" (Munich: Bayerische Akademie der Wissenschaften, ISBN 978-3-7696-1004-8. If you want to support the author and the publisher please consider buying this book (regular price: 58 EUR plus shipping).
Tsepak Rigdzin – Tibetan-English Dictionary of Buddhist Terms
The Uma Institute for Tibetan Studies Tibetan-Sanskrit-English Dictionary (Version: June 2015) by Jeffrey Hopkins and others.
"Common Chinese-Tibetan-Sanskrit-English Buddhist Terminology", Compiled by Chung-An Lin, assisted by Hou-Wha Wang (only the English and Tibetan terminology is incluced in the application so far)
Dan Martin: "Tibetan Vocabulary.", April 2003.
Glossary for Mipham Rinpoche's Gateway to Knowledge, Vol. 1 (Rangjung Yeshse Publications)
James Valby's Tibetan-English Dictionary. © James Valby.
Ives Waldo's glossary compilation. © Ives Waldo.
Glossary of Tibetan Computer Terms by the China Tibetology Research Center
Various Tibetan definitions from major textbook authors of Sera Monastery (Tibetan)
Dung dkar tshig mdzod chen mo (Tibetan)
Dag yig gsar bsgrigs (Tibetan)
Mahavyutpatti (Sanskrit terms)
Glossary Based on the Mahāvyutpatti and Yogacarabhumi compiled by Richard Mahoney (Sanskrit terms)
Input occurs in Wylie or with a Tibetan keyboard layout (you can for example use the Tibetan keyboard from Irom Rabbit which is available in the Google Play Store if you don't want to type in Wylie transliteration).
An online version of this dictionary application is available at: dictionary.christian-steinert.de
See also www.christian-steinert.de for further resources and pointers to other Tibetan dictionary programs.
Screenshot: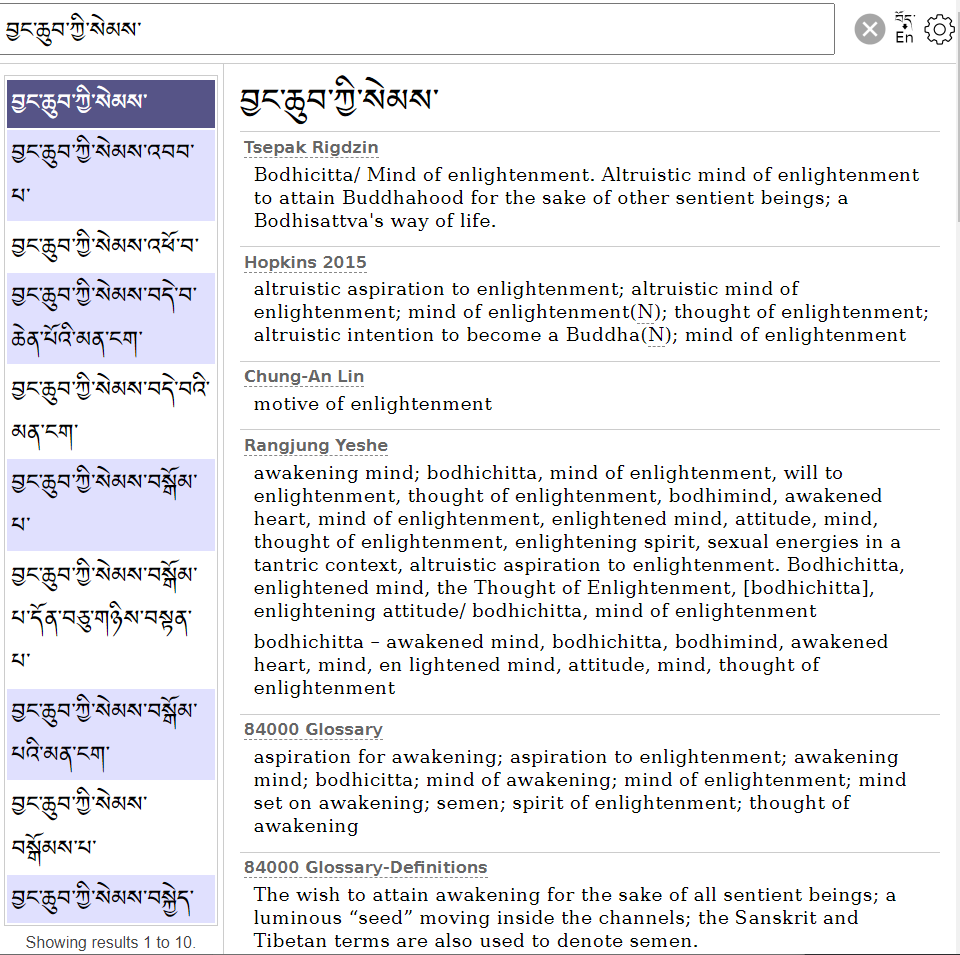 Source Code:
Other Dictionary Programs:
See also this overview of other dictionary programs by other developers.
Privacy policy
This app does not collect, store or transmit any data about yourself or and the activities that you perform.
We don't know who you are, we don't know what you do and we don't track how you use the app.